Saturday, October 3rd, 2020
Community Care of West Niagara is very excited to be the Ride for Refuge host charity for the second year in the Niagara Region!  This is an annual nationwide walk/ride taking place on Saturday, October 3rd, 2020 that supports charities who help the displaced, the vulnerable and the exploited.  
On your own (but not alone)!!
Provincial law, health risks, and operational challenges won't permit us to assemble in large groups this year. So, we'll gather as always on October 3, but in smaller, covid-friendly teams or groups of teams as permitted.
We are looking for ride captains, teams, individual riders, volunteers and of course sponsors!

The fundraising goal for the 2020 ride is $25,000 with 80-100 participants. They can take part in a bike ride of 5k, 10k, 25k, 50k,  5k walk or any of the Freestyle choices below! 

For more information:  email Lynda@communitycarewn.ca | call 905-563-5822 | visit any of the links to the right. 
---
Team Captains will have a bit more creative freedom in self-organizing a team on RIDE Day. It could be picking where to meet your team and what local routes to ride or walk, or it could be helping your team consider which of the new RIDE Freestyle fundraising activities you want to consider instead. Whatever you chose, we'll be here to help you - you may be on your own, but you won't be alone.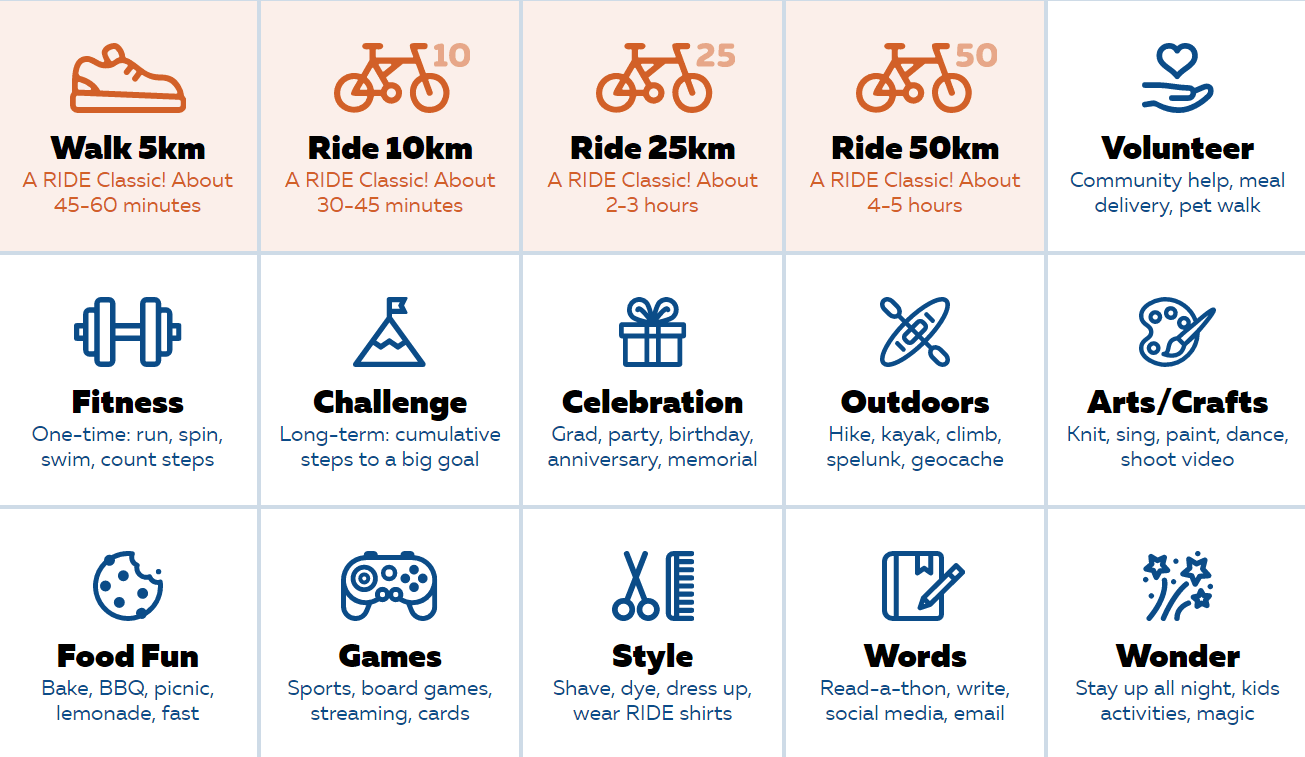 More ways to RIDE... Freestyle
Losing our large group gatherings is disappointing for sure. But we're not going to let Covid-19 stop us from having a great RIDE this year - we've created lots of new ways for you and your teammates to fund raise!

 
This year you can select a fundraising activity you all love together, or release your friends to try any one of the new RIDE Freestyle options on their own, while still fundraising on your team. You can still select the classic 5 km walk, or the 10, 25, or 50 km bike ride (again, you'll self-organize that), but now there are many more choices! Give them a good look - don't worry, you can always change your activity later.

 



Questions about our programs? Looking to Volunteer?
Contact Community Care of West Niagara today.