34th Annual Beamsville & District Lions Food Drive!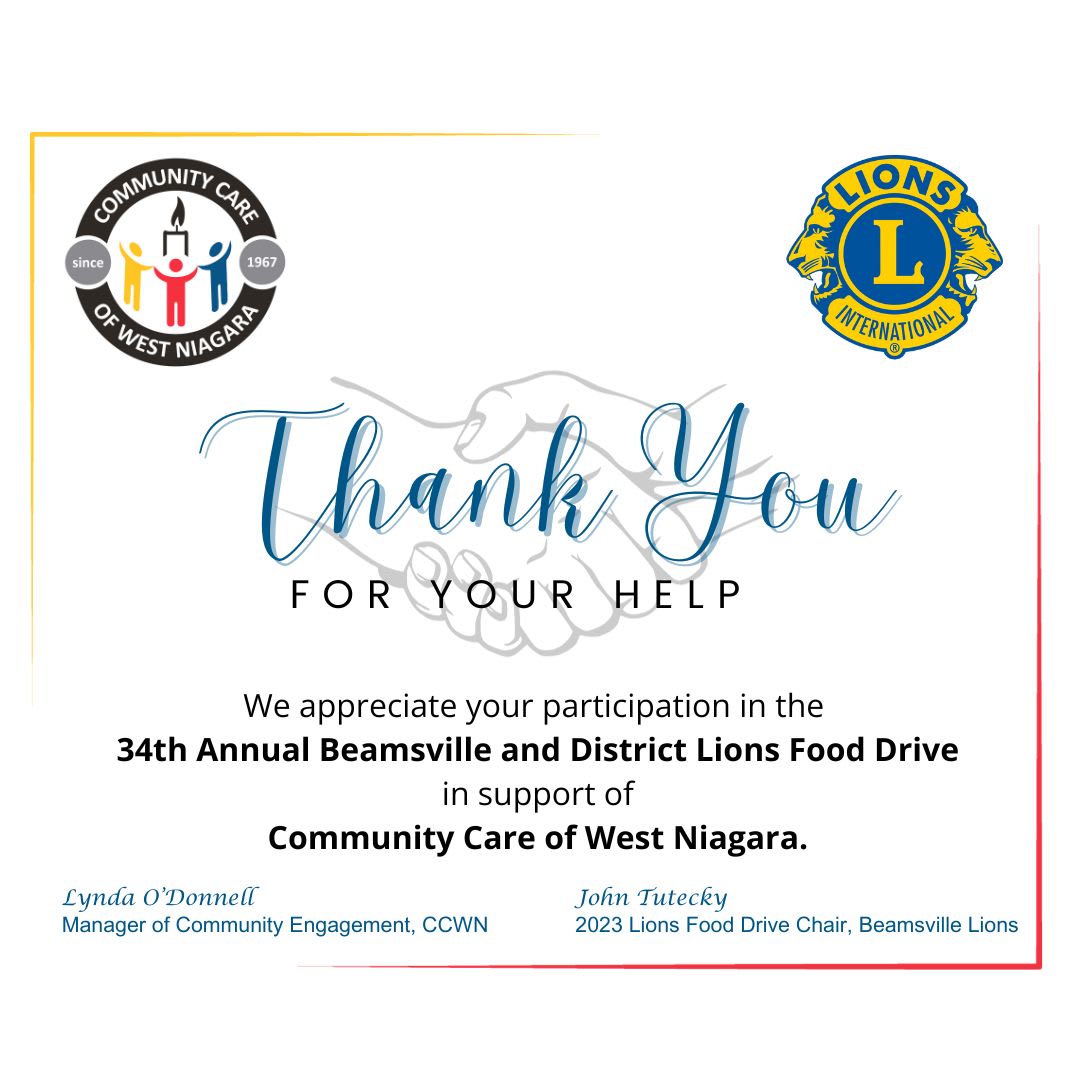 Once again, another successful food drive in the books! THANK YOU to all of the volunteers, sponsors, community partners, and residents who donated, we appreciate YOU!!  On behalf of Community Care of West Niagara and the Beamsville Lions, we thank all volunteers for taking the time to help us collect, sort, date sort, load, weigh and unload 25,000lbs of non-perishable and personal items! That is equivalent to 31,250 meals that CCWN will provide to families, seniors and individuals in the upcoming year! We are humbled by the support of our community and you! 

---
DATE: Saturday, September 16, 2023

Time: 8:30 am to 2:00 pm

Location of Main Sort: Great Lakes Christian High School 
Additional Drop Off Locations from Monday Sept. 12 - Monday Sept. 18 : Lincoln Pelham Public Library - Fleming Branch & the Lincoln Pelham Public Library - Rittenhouse Branch
Or during hours of operation at both CCWN Locations. 
---
Many people do not realize the extent of hunger's reach in our community.  Join us as we come together to meet the continuous challenge of ensuring that no one in our community goes without the basic necessities which so many of us take for granted.
The Beamsville & District Lions Club's 34th Annual Food Drive benefiting Community Care of West Niagara is around the corner. If you are able, please put out your donation of any size on Sept 16th, every little bit helps! Together we can fill the shelves at CCWN and ensure that all residents of Lincoln are able to put a meal on the table during these tough times. We appreciate anything & everything the generous residents of Lincoln can do to help them "Grow our Community Beyond Hunger".
---

About The Beamsville & District Lions Club

The Beamsville and District Lions Club has been serving residents since 1939 and in choosing to continue the partnership with the Community Care of West Niagara we hope to make this, our 33rd year the most successful ever. 

Meetings are held at the Lion's Hall located at 4285 Mountain Street in Beamsville at 6:45 pm on the 2nd and 4th Tuesdays, from September through June. If you would like to join the Lions, please click here.

 

 
Volunteer Information
Year after year we need 200+ volunteers to successfully gather, product sort, date sort, and deliver 28,000-32,000lbs of non-perishable food items to the CCWN warehouse for the low income families we serve in Lincoln. This is the only community wide food drive we do each year so we count on donations from anyone who is able to give.
We are happy to say that we are partnering with Great Lakes Christian High School once again and will have the use of their very large gym to product sort and date sort the donations!  

Thank you to everyone who has signed up for the food drive! Volunteer Registration has been taken so we can work on final details and send out information to volunteers. If you are interested in volunteering, please contact me directly at: 
Contact Lynda@communitycarewn.ca or 905-563-5822 x 3 
---
 Most Needed Items 2023
*Applesauce - Jars and Snack Cups 
*Baking Ingredients - Small Sizes of Flour, Sugar, Brown Sugar 
*Broth - Chicken, Beef & Vegetable
*Brown Beans 
*Cake & Muffin Mixes, Icing Sugar 
*Canned Fruit - Peaches, Pears, Fruit Cocktail, Mandarin Oranges, Pineapple, Cranberry Sauce
*Canned Meat - Flakes of Turkey, Chicken & Ham , Corned  Beef
*Canned Soup -  Vegetable, Chicken Noodle, Cream Soups
*Canned Vegetables - Mixed, Carrots, Mushrooms
*Cans of Beef Stew, Chili
*Cereals, Oatmeal
*Chef Boyardee Canned Pasta
*Children's Snacks - Fruit Snacks, Goldfish, Bear Paws etc.
*Chunky Soup - Chicken, Beef & Habitat Pea 
*Coffee, Tea, Hot Chocolate, Boost, Gatorade 
*Cookies - Choc Chip, Assorted
*Cooking Oils - Olive, Vegetable, Canola etc.
*Crackers - Swiss Cheese, Vegetable, Ritz or Goldfish etc.
*Dish Soap, Laundry Soap & Cleaning Supplies
*Granola Bars, Protein Bars
*Gravy - Canned, Packages
*Hamburger Helper, Stove Top Stuffing
*Hygiene Products, Shampoo, Conditioner, Body Lotion & Wash,    Liquid Soap, Deodorant, Razors, Toothbrushes, Toothpaste
*Juice & Juice Boxes
*Ketchup, Mustard, Relish, Mayo, BBQ Sauce and Salad Dressing
*Kraft Dinner
*Pancake Mix, Peanut Butter, Jam 
*Pasta & Pasta Sauce
*Potatoes - Instant, Canned
*Pudding cups, Jell–O Pudding, Jell-O cups and Jell-O  
*Rice - Ben's Original, Minute Rice etc.
*Sidekicks - Rice & Pasta Sidekicks
*T Paper, Kleenex, Paper Towel, Wipes, Baby Wipes
---
Thinking of Contributing?

Organizers ask residents to place donations outside their front door by 8am. Here are a few handy tips when preparing your contribution:

    1.  Decide if you are going to purchase your donation or dig into your cupboard.
    2.  Please check best before dates before donating your items!
    3.  Decide if you are going to place it out for pick up, or to take it to a drop off site.
    4.  Financial contributions are gratefully accepted, allowing us to maximize our purchasing power.
    5.  Pat yourself on the back for participating in the collection efforts of food & personal items to help your  neighbours in Lincoln!