Organize a Donation Drive
There are a number of ways that individuals can support
Community Care of West Niagara.
---
Food Drives & Fundraisers
Community Care of West Niagara is very fortunate to receive community support from organizations and individuals throughout the year.  3rd -Party Events (events organized by someone other than CCWN) raise food and funds as well as build relationships, public awareness and media attention in our community.
They are organized on behalf of CCWN, requiring minimal agency support and resources.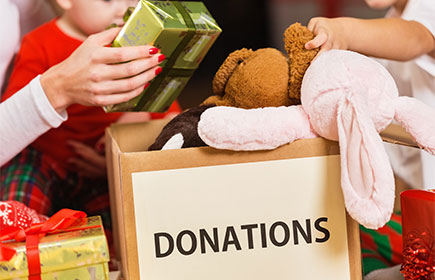 ---
If you're planning or considering doing a food drive or fundraiser, please REGISTER YOUR EVENT now.
---
Food Drive & Fundraiser Tips
Let us know your goals, if you need food collection boxes or an authorized copy of our logo. The 'when' and 'where' tends to be the easy part of an event, following through is the fun part!
Challenge your school, colleagues or community to help reach a specific weight or number of bins filled.
Generating 100% participation is a goal.
If you're organizing a corporate event, find out if your company will match gifts.
Decide how you're going to collect, store and transport the food.
We have a supply of food collection boxes, and cash donation boxes that you can request, and you are also welcome to gather collections in your own containers.
We always appreciate collections being dropped off at CCWN to help us save resources. The more we save, the more we feed!
Provide Regular Updates.
Tell your contacts how the campaign is going, get them excited about what you are doing.
This will also act as a reminder for them to donate.
Create Images/Posters
Encourage people to donate our Most Needed Items. Print a poster to spread the word!
General Poster ideas: Fill an Empty Cupboard, Empty Fridge, or Empty Lunch Bag.
Follow Up!
Let's face it, most people are always on the go and even if they intend on donating…they might forget. Posting online and sending updates will act as a reminder.
Email, text, call and let everyone know if you still need their support.
After we receive the donation from a community event, we will send a thank you letter to the event organizer.


Use Social Media!

Spread the word on your social media accounts you use and tag us.


Facebook: communitycarewn
Instagram: communitycarewn
Twitter: communitycwn
LinkedIn: communitycarewn
Food We Cannot Accept

We want to ensure all your donations make it to the tables of those in need, so to prevent waste please avoid donating the following:
Vitamins
Over the counter medications (i.e. Tylenol, Advil etc.)
Home baked-goods or food prepared in a home environment
Personally wrapped meats
Opened food items, or food not in its original container/packaging
Candy and snack food items in packaging that can easily be tampered with or contaminated (i.e. individual raisin boxes, foil-wrapped treats etc.)
When donating snacks, please keep in mind that a nutritious treat is always preferred.
*The above standards are put in place by Food Banks Canada, and are to be utilized by all Registered Member Food Banks.