Did you know...? Proper school supplies are often a requirement of course curriculum an essential for academic achievement.
---
Why Support the Back To School Program?
In 2016, over 230 children from 150 families living in West Niagara accessed school supplies they needed to be successful in school. This was made possible by United Way St. Catharines & District, generous community members, & local vendors.
Your donation can assist qualified families with items such as school supplies, school milk programs, class trips, school agendas, school photos and more.
---
Make a Monetary Contribution
Most financial donations qualify for a charitable tax receipt with minimum contributions. CCWN issues charitable tax receipts for donations $20 and over. Donate now »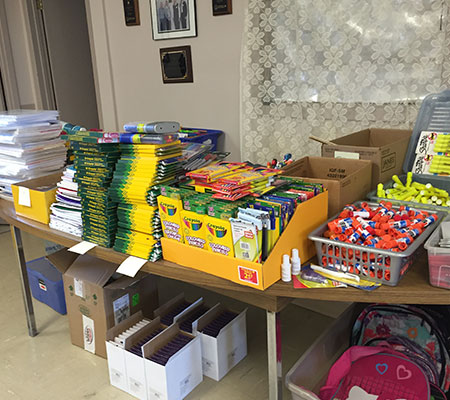 Donate School Supplies
We welcome the following supplies:
Canadian Tire Money gratefully accepted to purchase items not donated
Thermos
Lunch Bags
New USB Flash Drives (gr. 4 & up)
Re-useable Water Bottles
Combination Locks (High School)
Travel Mugs (High School)
Drop-off Instructions
We will gratefully receive any food donations at the rear receiving door of the CCWN building, Monday to Friday from 9am to 4pm. Please let us know you are bringing a donation by ringing the doorbell at receiving or stopping in at reception so we can meet you at the receiving area.
Questions about our programs? Looking to Volunteer?
Contact Community Care of West Niagara today.