Support Our Food Program
Over the course of a year, Community Care of West Niagara will acquire and distribute over 110,000 lbs. of nutritious food for empty cupboards.
---
Why Support the Food Program?
CCWN provides emergency food to an average of 350 families per month who are living below the poverty line in West Niagara. Families can come once per calendar month for their perishable and non-perishable grocery pickup, and once per week for perishable items such as fresh produce and bread.
---
Make a Monetary Contribution

Most financial donations qualify for a charitable tax receipt with minimum contributions. CCWN issues charitable tax receipts for donations $20 and over. Donate now »
---

Ongoing Needs of Food & Personal Care Items
 -Instant potatoes, canned potatoes, canned mushrooms, rice
 -Chunky soup such as chicken or beef and Habitat pea, beef stew
 -Cans of fruit, applesauce and fruit snacks
 -Canned salmon, sardines and tuna
 -Flakes of ham turkey, chicken, tinned ham, corn beef, spam
 -Salad dressing, olive oil, ketchup, mustard, relish, mayo
 -Pickles, olives
 -Crackers such as Swiss Cheese, Vegetable, Ritz or Goldfish
 -Barbecue sauce, soy sauce, plum sauce, hot sauce, teriyaki sauce, cranberry sauce
 -Cereals like Cheerios, Frosted Flakes, Mini Wheats, Special K, Corn Flakes, Rice Krispies
 -Cookies such as Oreos, chocolate chip, maple, oatmeal, shortbread, variety packs
 -Jams, jellies, peanut butter
 -Coffee, tea, hot chocolate, Gatorade, Boost, apple juice and juice boxes
 -Canned or powdered milk, soy, rice or almond milk
 -Snack packs, pudding, and Jell-O
 -Small bags of white flour, sugar, brown sugar
 -Kleenex, toilet paper, paper towel, wipes
 -Cleaning supplies, laundry soap, dish soap
 -Shampoo, conditioner, deodorant
 -Men's razors, feminine products
Food We Cannot Accept
We want to ensure all your donations make it to the tables of those in need, so to prevent waste please avoid donating the following:

-Vitamins
-Over the counter medications (i.e. Tylenol, Advil etc.)
-Home baked-goods or food prepared in a home environment
-Personally wrapped meats
-Opened food items, or food not in its original container/packaging
-Candy and snack food items in packaging that can easily be tampered with or contaminated (i.e. -individual raisin boxes, foil-wrapped treats etc.)
When donating snacks please keep in mind that a nutritious treat is always preferred.

*The above standards are put in place by Food Banks Canada, and are to be utilized by all registered food banks and food programs.
---
Drop-off Instructions
We will gratefully receive any food donations at the rear receiving door of the CCWN building, Monday to Friday from 9am to 4pm. Please let us know you are bringing a donation by ringing the doorbell at receiving or stopping in at reception so we can meet you at the receiving area.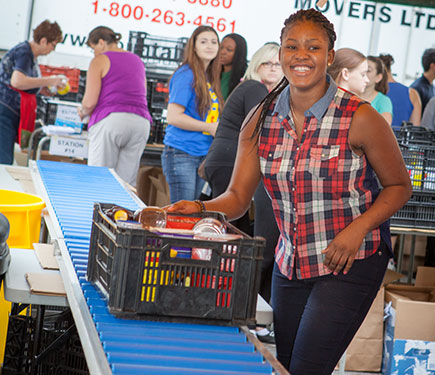 ---
---
Questions about our programs?   Looking to Volunteer?
Contact Community Care of West Niagara today!